East & West Area Rug Restoration
Vancouver Area Rug Restoration
A prominent Vancouver area rug restoration company, specializing in cleaning and repair of all types of hand knotted high quality rugs.
    Area Rugs Restoration
Vancouver area rug restoration expert in handmade area carpets, oriental rugs, persian rugs, all types of handmade carpets. We have the experience. Rug restoration can vary quite a bit depending on the type of area carpet, how intricate the pattern, the damage etc. So we here at Vancouver area rug restoration advise you to call us to come take a look at your area rug before you do anything. Any hand made area rug can be repaired. The only question would be is it worth the price of repair. Now there are a variety of names for handmade carpets as you will see if you peruse our website. We here at Vancouver area rug restoration specialize in hand made carpets. So the terms can be handmade carpet, area carpet, area rug, oriental rug, Persian rug, Chinese rug, Turkish rug etc. They can be made from different natural fibers but they are all handmade, meaning each one is unique because they might be uneven, or the patterns will not be exact in each place etc.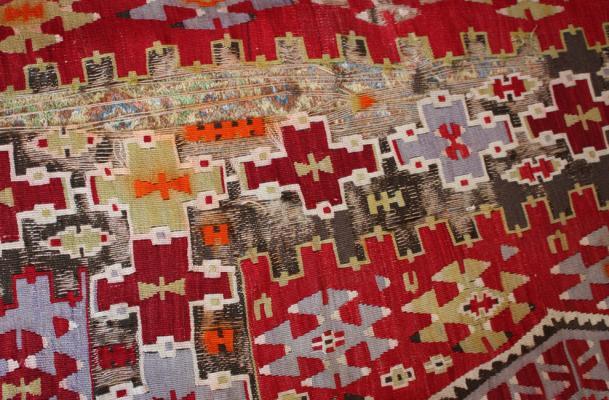 This gives your fine handmade carpet a unique character, where as a machine made carpet will be the exact same every time and might have thousands of copies. We here at Vancouver rug repair have the skills needed to make a handmade rug look like it was never damaged. Whether it is cutting out a patch and re knotting the oriental rug or re weaving the oriental rug we have the skills for the job. We have the experience to match the fibers, dyes and patterns of your handmade area rug. Whether your oriental rug has been damaged by fire, moths, wear and tear or any other type of damage it can be repaired. Because hand made Persian and all other handmade rugs are handmade they can be repaired by the same techniques. We here at Vancouver carpet repair know all the techniques used to make handmade carpets. We can duplicate the patterns and have the dyes and fabrics to make your area rug look like it has never been damaged. We can do repiling and reweaving of all types of handmade rugs such as Persian, oriental, afghan or Turkish rugs. We can reproduce the same pattern and designs with specialty dyed wool and other natural fabrics. We use only high quality dyes which do not fade and last for many decades. If the area rug needs to be re-knotted you must know your different knots. For instance there is a difference between a Persian and a Turkish knot. The Persian knot is a thinner knot because it has less of a gap than a Turkish knot. The ends of the Persian rug can be braided, tassled or weft faced. Where as the Turkish knot is double knotted in the back making the pile thicker in the front. Usually with this Turkish rug the end of the knot has flat woven side cords. The most common area rug repairs are done on the sides and the fringe on the ends of the oriental rug. Oriental rugs are generally woven from side to side across the warp strings. There is an end point and here the weaver will tie the end point so it does not unravel. Over time  and with wear and tear of traffic these ends will unravel. The longer you leave it the more extensive the unraveling will come creating more damage. So it is a very good idea to get your handmade carpet repaired as soon as possible. A tight narrow edge will be used to repair a Persian rug while a thicker wider edge will be used for a Turkish rug. The end of the rug usually will have a fringe on it, which most people will recognize right away. The fringe might look like just an add on to your fine Persian rug but in fact it is actually a very important piece of your rug and helps maintain the integrity of the area rug. Because it is exposed like it is and quite fragile it is the most common reason for people getting their oriental rug repaired. Just like with the edge repair it is very important to get the fringe of the carpet repaired as soon as possible. If you wait to long to repair the fringe of the rug it will eventually get worse and the knots of the rug will also start unraveling which will end up costing you a lot more to repair. A master weaver like we have here at Vancouver carpet repair can repair the fringe with a variety of techniques depending on the severity of the damage. I If caught quickly enough we can re secure the fringe relatively inexpensively. There are a variety of techniques that can be used, if the rug is quite thick it might be best to sew new fringes on to the area rug rather than try to repair it. If the carpet is a thinner style area rug it might be best to use a technique called a chain (zangera) stitch. Repairing a hole in your area carpet is a more complicated process and for good results it must be done by a professional. Matching the hole with the surrounding areas takes a lot of skill and patience. The first thing done in repairing a hole in your handmade carpet is to prepare and fix the foundation of the carpet around the hole. The broken fibers around the hole must be repaired and extended so to make possible the weaving repair. This initial step is crucial to the final results of the rug. If it is not done properly the hole repair will not look invisible or unnoticeable.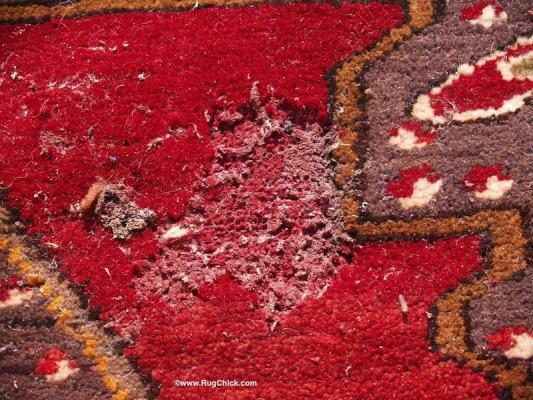 Next depending on the natural fibers used in the handmade area rug, the particular fiber will be sewn using the precise pattern and thickness used by the original master weaver. The knots, wefts and warps of the original will be duplicated to create a seamless patch. If the job is professionally done it will be very difficult if not impossible to notice where the hole was when the job is finished. A common issue with hand made carpets is fading from sun exposure. To prevent this problem you should rotate your handmade area carpet every three months to have even distribution and prevent fading. If there is fading caused by the sun, sometimes it is possible to use special dyes that are matched to your carpet to restore it to a more even color. This can be difficult and it is best for you to call us here at Vancouver carpet repair for us to visit your home and take a look at your area rug. Although every handmade carpet can be repaired not everyone should. Depending on how valuable the area rug is, it might not be worth the cost to repair it. But you should never just throw away your handmade carpet. The fabric can be reused and recycled. There should be someone in your neighborhood or area who can use the material to make another Vancouver handmade carpet if that is your area, or they can repair other handmade rugs with the natural fibers they salvage. Also no matter how bad the condition of your carpet it is best to call us at Vancouver carpet repair, to see if it can be repaired and the price it will cost. Some restorations can be for worn out carpets. This can be repaired as well. One common problem in handmade carpets is that over time rugs can get white spots or white dots appearing throughout the rug. Sometimes a weaver will tie up the ends of the lengths of fabric they are using. If they do not cut off the knot closely it will often leave a small white nub which is buried in the fabric pilings. From traffic on the carpet, the pilings get worn down and these nubs are exposed. To repair this we at Vancouver carpet repair will trim down the knots as close as possible so they don't stick out. Then we will take whatever fabric this particular carpet is made from and we will weave it back into the carpet, completely reviving it. If needed we will use a proper dye to match the color of the original carpet fibers. Sometimes a bad stain in which the owner could not get themselves or the company they hired to remove the stain, resort to something called tea wash. Tea wash also known as antique wash is used to age or brown the handmade carpet. Sometimes it is used to hide stains and sometimes for the sole purpose of making the carpet looked aged. Here at Vancouver carpet repair we can tell if your Persian rug has been tea washed or not and if there are any hidden stains on your carpet. The tea wash usually uses tea leaves, hence the name, but sometimes henna or other products are used to get the desired effect. It could cause the repair to be more expensive. There are things you should do to help keep your handmade carpet in good condition. Vacuum it once a week, get it professionally cleaned when it starts to get dirty. It depends on how much traffic you get on your carpet to determine how often you need it cleaned. We often get carpet dealers wanting new carpets cleaned, to restore the sheen of it.  Rotate it every 3 to 6 months to avoid sun damage. keep it out of high traffic areas and away from moisture.