Rayon Carpet Cleaning
Services Vancouver Rug Cleaning
A prominent Vancouver area rug cleaning company, specializing in cleaning and repair of all types of hand knotted high quality rugs.
History Of Rayon
  Rayon carpet cleaning has been going on since the middle of the twentieth century. But Rayon itself was first created by Hilaire De Chardonnet in 1885.  When he patented the first successful process of making fibre from cellulose, using a chemical process involving rags and wood pulp. With the development of this new process by Dupont, it initiated the transformation of the textile industry. In which we see today. The process has of course been improved since 1885, but Chardonnet is generally considered the father of imitation silk.
 It is important to note that although rayon is made of the natural fibre of cellulose. It is still considered to be a man made fibre. Because it is manipulated chemically to become rayon. Because rayon is made from a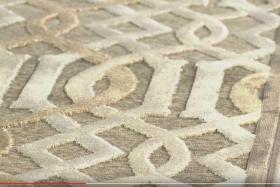 natural substance, but is manipulated chemically by man. It is considered to be a manufactured fibre. Rayon carpet cleaning can be difficult because of this chemical process. 
 The company Dupont brought rayon to the masses, and revolutionized the textile industry. Previously silk, because of the cost, was for the wealthy only. As a matter of fact in some cultures silk was forbidden for anyone but the ruling class.
 With the advent of more discoveries such as nylon and teflon, rayon started to lose its popularity. The reason being, nylon is much more elastic and does not wrinkle. Therefore much more desired by textile manufacturers. Interestingly in 1961 Time magazine had the battle of nylon versus rayon as one of its covers.
Types Of Rayon
 There are several different types of rayon, we will be concentrating on viscose rayon. Viscose is an organic liquid made by dissolving wood pulp or cotton linter in caustic soda. Basically without getting into this subject too technically, viscose is a type of rayon. And rugs are made of viscose rayon, but are often referred to as just viscose, or rayon.
 The reason rayon is used in the making of area rugs is because it is very soft.  And it feels as soft as real silk, and can be easily misrepresented as a real silk area rug. Because of this, area rugs made from rayon are often sold as silk carpets. Which enables the seller to inflate the price of the area rug. There are countless rayon area rugs in peoples homes today masquerading as real silk rugs. They often do not know that they have been duped until the rug needs cleaning or repair. Because rayon area rugs must be cleaned differently then real silk rugs. Rayon carpet cleaning often ends up with disastrous results if not done professionally. 
Issues With Rayon
 The thing that makes a viscose rayon rug so desirable is actually the main problem with this rug. The softness of a rayon rug is achieved through a chemical process, which in the process makes the fibres very weak. It may well be the weakest fibre on the market today. Making cleaning a very difficult if not an impossible task.
 Rayon Sheds
 Because of this inherent weakness rayon carpets have a tendency to shed. They do not do well in high traffic areas. The wear and tear of everyday traffic wears down the fibres and they loosen and break down. You will see fibres, on your clothes and on the floor. You can get a professional to trim or shave the loose fibres, to improve the look of the rug. But more than likely this will reoccur. Because most people do not have the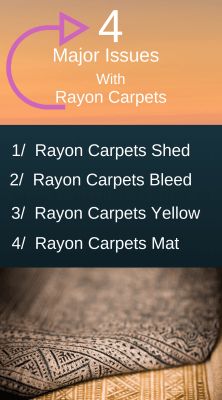 expertise in area rugs. They will often use a vacuum with a beater bar on it, which only exacerbates the problem.
Rayon Bleeds
 Viscose rayon rugs do not hold dye well. This is a critically important thing to know about rayon carpets. You need to contact a professional area rug cleaner to view your carpet. And determine if it is a viscose rayon carpet, a silk carpet, a wool carpet or whatever the make up of the area rug is. This is one of the reasons a real professional area rug cleaning company cannot give you a cleaning quote over the phone. The area rug must be inspected in person to determine the rayon carpet cleaning method to use. If the wrong techniques are used to clean your rayon area rug, there is a very good chance it will be ruined beyond repair.
 The colors of a rayon carpet will often bleed into one another if they become wet. Either through cleaning or liquid spillage, the fibres are not able to hold the dyes. The technique of either surface washing, or immersion washing must be determined before the cleaning process is started. Cleaning rayon area rugs is considered an advanced cleaning process. And therefore should only be done by an experienced fine area rug professional. 
Rayon Tends To Yellow
 Another disadvantage of a rayon area rug is that they are prone to yellowing. The cellulose in which rayon carpets are made from has a natural tendency to yellow. So often when a rayon carpet gets wet from either cleaning or spillage it will quite often yellow. There are techniques to remove this yellowish color. But again rayon carpet cleaning should be handled by a professional.
Rayon Carpets Stiffen
 The last disadvantage of owning a rayon area rug, is that they often become matted and or stiff. Again often because of getting wet and also from wear. There are techniques and tools that can bring your rayon area rug back to life again. But once again I must stress that it should be done by an experienced professional.
 Rayon area rugs should not be used in high traffic areas like living rooms or hall ways. They do not stand the test of time in those areas. When purchasing an area rug, make sure you know what the carpet is made from. And also where you want the area rug to go. Here at east west carpets we are very experienced with all types of area rugs. This includes rayon carpet cleaning, contact us with any questions you might have.